written by Samantha McLaren 3rd august 2021
Mike Conley, a software engineering leader, had had enough. Although he was in the running for a role he wanted at a great company, he voluntarily dropped out of the hiring process. His reason? Mike had already gone through three rounds of interviews, and the company wanted him to come in for six more.
"I wasn't just thinking about my hiring experience," Mike shared in a post that went viral on LinkedIn. "I also withdrew because the role is one that would repeatedly hire team members in a company that is in its growth stage. I did not want to be part of a system that is this taxing on candidates."
In response to Mike's post, thousands of people shared their own experiences of lengthy interview processes, as well as their thoughts on what companies can do to be more respectful of candidates' time. While this is always important, in a candidate-driven market, it could be the difference between a company snagging the talent it needs and losing out to a competitor. If candidates feel like there's no end to the interview process in sight, they may be more inclined to accept another offer, even if they were excited about your company. Or, like Mike, they may simply take themselves out of the running and look for other opportunities elsewhere.
To avoid losing out on great talent, here are a few steps you can take to keep candidates engaged and show them you value their time. You may already be doing these things, but it never hurts to audit your hiring process and ensure every candidate has a positive experience with your company.
1. Share a salary range as early as possible
No matter how enthusiastic they are about a role, salary can be a dealbreaker for candidates. They need to know whether the role will pay enough to support them and, potentially, their family. If it won't and they only discover this halfway through the process (or, worse, at the very end), they may feel like their time has been wasted.
If you can, consider stating a salary range in your job description or sharing this information during initial phone screenings. In LinkedIn's Global Talent Trends 2019 report, 54% of talent professionals who share salary ranges with candidates say it filters out those who would decline, and 57% say it streamlines negotiations later in the process.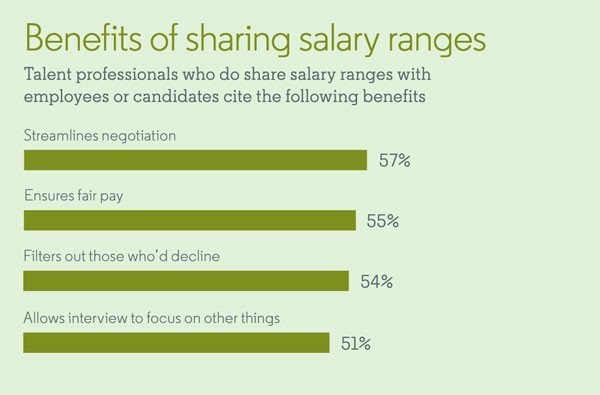 Increasing transparency around salary ranges can also help to close pay gaps, with 55% of those surveyed for the report saying it ensures fair pay. Candidates will appreciate your company's candidness, even if they ultimately decide not to move forward.
2. Outline what the process will look like upfront 
Having a multistep interview process isn't automatically a negative in candidates' eyes. For more senior or specialized roles, most people will understand the need for a more complex hiring process. But if candidates only find out about this when they've already invested a lot of time and effort into the role, they may feel like the wool was pulled over their eyes.
Sharing information upfront about what the hiring process will look like signals to candidates that you're committed to transparency. Some companies do this by outlining the different steps involved in their job descriptions or on their website. Procter & Gamble, for example, has a step-by-step guide on its career site, including details about the different types of assessments candidates may be asked to complete, how long they'll take, and how soon they're likely to hear back from the recruiting team afterward.

Even if you do outline your process before candidates apply, consider recapping it in the first message you send to them and sharing an estimated timeline if you have one. That way, nobody will be left in any doubt about what's involved and candidates will have a strong sense of the time commitment required from them.
3. Keep the number of interviews involved to a minimum 
As the comments on Mike's viral LinkedIn post made clear, the nine-round interview process he encountered is not all that uncommon. While some commenters noted that their personal record was four or five interviews for a role, others said they'd been through as many as 10. Reflecting on his experience, Mike shared a few thoughts on why this might be happening.
"Companies think they are building processes that ensure picking the right candidate," he wrote. "I don't think that's true. I think it's due to fear of picking the wrong candidate. I think it's fear they will not find the next unicorn. I think it's fear of wasting time that ends up wasting more time."
Research from Google backs this theory up. The tech giant's interview process used to involve over a dozen rounds and could last up to four months. But when the company looked at its interview data over a five-year period, it found that four interviews were enough to help the team accurately predict a new hire's performance 86% of the time. What's more, conducting more interviews beyond that produced rapidly diminishing results.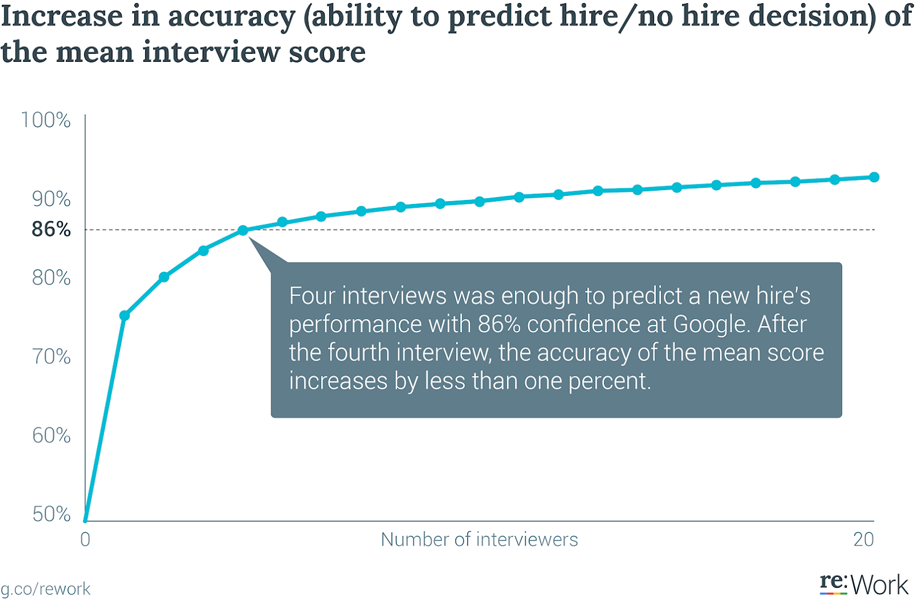 As a result, Google now aims to stick to four interviews or less for most roles. Dubbed the "Rule of Four," this standard not only reduces the time commitment required from candidates, but has reportedly saved Google "hundreds of thousands of hours" of employee time.
If you're able to dig into your data to determine the optimal number of interviews, this may help you make a stronger case for a shorter process to any hesitant stakeholders. You could also consider combining several one-to-one interviews into a panel, or scheduling multiple interviews with the same candidate over a single day if you're looking to create a more streamlined experience.
4. Consider compensating candidates for interviews and tests
The question of whether or not candidates should be compensated for interviews and tests is a hotly debated one. In a recent LinkedIn News poll on the matter, the majority (39%) of respondents said no — but a third (33%) said maybe, and 28% said yes.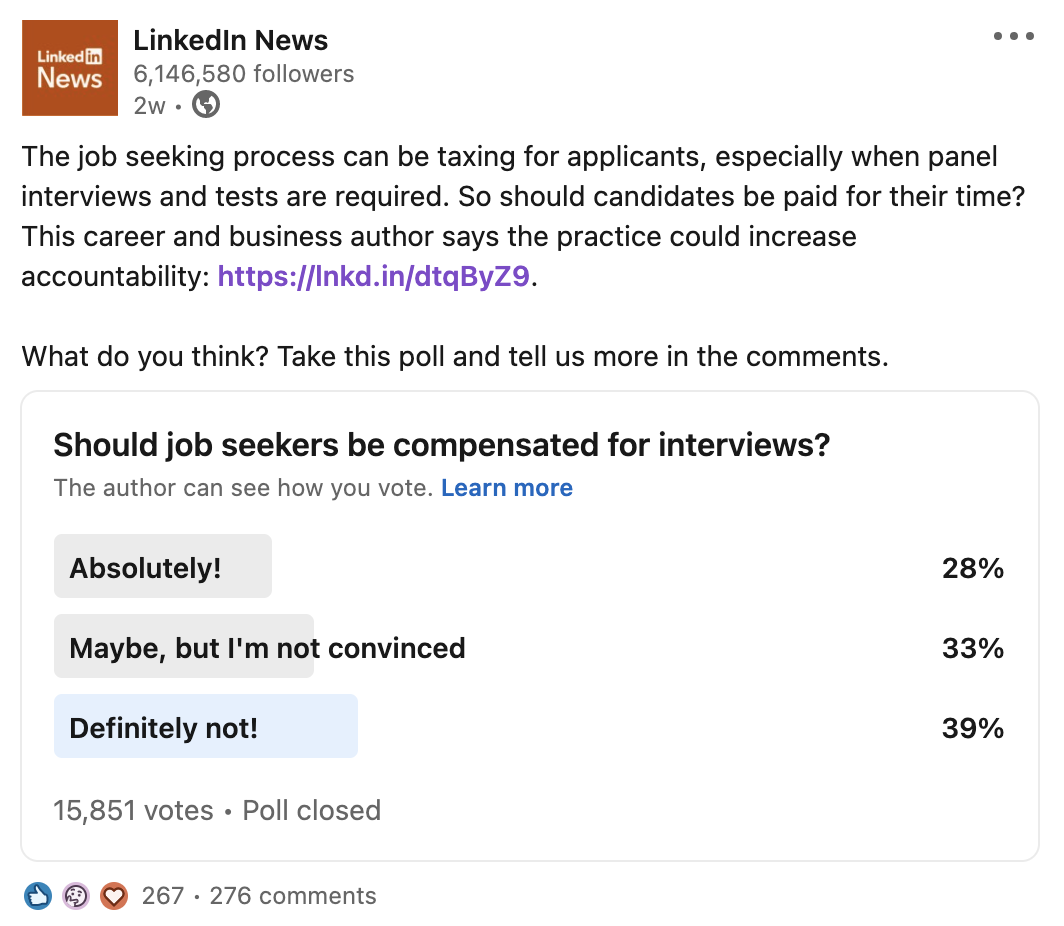 Every company will have a different perspective on this. But as an intermediary step, it may be worth considering small ways that you can make interviews more accessible to people from a wide range of economic backgrounds.
For instance, while many companies cover travel expenses for candidates who come in to interview from afar, some also pay for local talent to take an Uber or Lyft to the interview site — saving them the money they would have spent on gas or public transport. This might not seem like a big barrier to entry, but if a candidate was asked to come back for multiple interviews, those costs can add up.
Since childcare can be prohibitively expensive, some companies are also normalizing child-friendly interviews, encouraging parents to bring their little ones along if they need to. Take DigitalOcean: on its candidate resources page, the cloud infrastructure provider notes: "We have a private space dedicated as a mothers' room. If you need any extra breaks, just let your recruiter or coordinator know and we'll be sure to accommodate your schedule and have the room ready for you."
Taking steps like these can reduce the financial burden that interviews may place on candidates, especially if they're currently unemployed or need to take unpaid time off work to participate. Where the issue of compensation gets more complicated, however, is around tests and assignments. These extra steps in the process can help companies adopt a skills-based approach to hiring, leading to more informed decisions. But they can sometimes take hours to complete and a few bad apples have been known to steal applicants' work without hiring or compensating them, which may leave some candidates wary.
If you can't compensate all candidates for taking part in this kind of assessment, aim to make the assignment as short as possible. Depending on their field, you may be able to ask them for a sample of previous work instead. And if they do complete an assignment that you want to use or that inspires your team, consider having a conversation about compensation at that point.
5. Avoid generic rejection emails and provide feedback
After taking the time to engage with a company, if candidates receive a generic rejection email or hear nothing at all, they may be left wondering why they put in the effort.
For candidates who make it deep into the hiring process, consider scheduling a call to pass on the news, rather than sending an email. Since 94% of candidates want to receive feedback after an interview, sharing a few pointers can be a good way to demonstrate that you valued their time and want to help them find the right role. Some companies have legal restrictions around feedback, but even providing specific details around what they did well may be incredibly meaningful to candidates.
Of course, your team might not have the bandwidth to call every candidate who applies but doesn't make it past the initial steps, especially for high-volume roles. In this case, creating a rejection email that feels warm, uplifting, and personal can leave candidates with a positive impression of your company. Take this rejection note that a candidate received from Johnson & Johnson last year, prompting her to praise the company in a LinkedIn post that was viewed more than 68,000 times: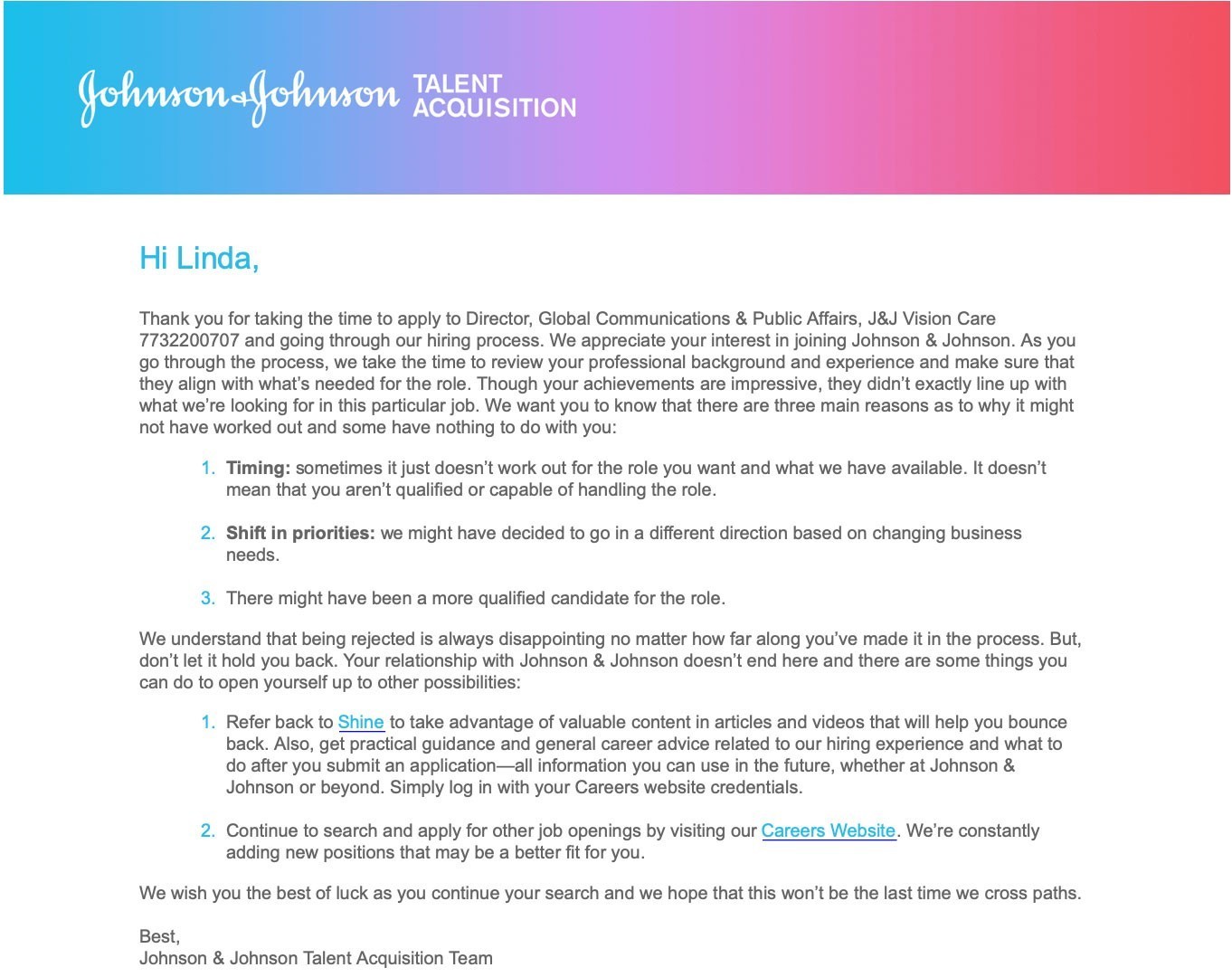 Johnson & Johnson's email goes above and beyond by crediting the candidate's achievements, wishing her luck in her search, and even encouraging her to apply for other roles at the company, complete with helpful information and links. And while no rejection feels good, this one was so thoughtful and considerate of the candidate's time that she noted it will positively influence her shopping decisions.
Final thoughts: Being respectful of candidates' time can create lifelong fans
When candidates feel a company has wasted their time, they're apt to share this experience among their friends and network. This may make others less likely to apply and could potentially damage a company's employer and consumer brand.
By contrast, when companies are respectful and appreciative of the time and effort that goes into applying and interviewing, candidates often feel more connected to the brand — even if they don't ultimately get the job. So, if you haven't evaluated your hiring process in a while, there's no time like the present. You might find that some steps could be tightened up or have become obsolete as your company has evolved — and by cutting them, you can save valuable time for both candidates and your team.